Periodically, we would like to feature dealers and professionals who stand out in our industry.  These are business men and women who share our philosophies, going above and beyond to deliver great products and services to their customers.  Our first featured dealer is Munn Tractor Sales in Auburn Hills, Michigan.  They are celebrating 40 years of successful business; a success built around listening to customer needs, carrying quality equipment and providing a full service parts and repair department. Besides serving the community with a friendly and knowledgeable staff, Munn Tractor continues to expand their product line for a more diverse selection.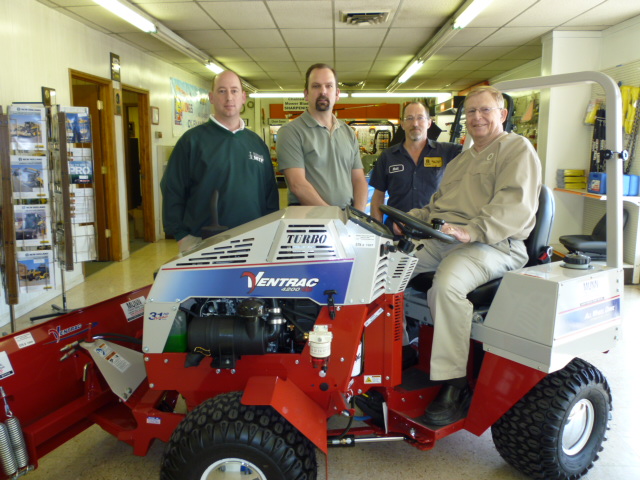 Since their beginnings in 1970 as a Ford tractor dealer, Munn Tractor Sales has grown and expanded into the full service dealership it is today by offering quality brands in a wide range of equipment for the outdoor lawn, garden, commercial and agricultural industries.  Carrying over 12 different equipment lines gives Munn Tractor Sales an edge by offering customers what they need at competitive rates.  Munn Tractor also offers equipment leasing and rentals for the tri-county area.   Customers can find exactly what they need whether it is commercial landscapers, golf courses, government agencies, agricultural or homeowner.
Munn Tractor Sales has recently added to their already extensive equipment selection.  While still offering brands such as New Holland, Hustler, Stihl and Woods, Munn Tractor has partnered with the Ventrac line of compact tractors and attachments.  They know the quality and versatility of Ventrac fit very well with their current lineup.  Adding Ventrac will give Munn Tractor more to offer their customers in the way of attachments designed for a wide array of jobs.  With Ventrac's One Tractor Solution, customers can own a tractor that works in every season and allow them to do numerous tasks like slope mowing, stump grinding, tilling, trenching or snow blowing.  Munn Tractor brought in Ventrac knowing how versatile the line is and that it will provide a need for customers wanting a powerful compact tractor unit with a wider lineup of attachments and features to do all their tasks.
At Munn Tractor, customers can expect honest answers and superior products, as well as quality repairs.  With an experienced staff, the service department is second to none.   Given their long dealer experience the full service department is ready to provide prompt repairs and parts with customer satisfaction in mind.
The company has a website at www.munntractorsales.com for viewing the equipment brands they carry, contact information as well as directions to the store.   But for those who wish to take a look around the impressive Munn Tractor showroom and meet the knowledgeable staff, the store is open Monday through Friday from 8:00 a.m. to 5:00 p.m. and Saturday 8:00 a.m. to 3:00 p.m.  Munn Tractor Sales is located at 3700 Lapeer Road in Auburn Hills and they can be reached at 248-373-5000.